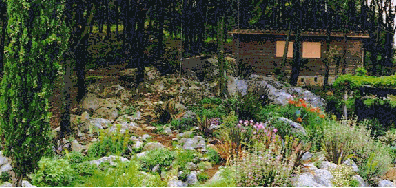 May 1997 ... Woodland clearance complete ... the shed gets a paint job! With access to the main rock outcrop, serious planting can begin. Plants were sourced mainly in the UK and crated over, some precious specimens were carried in luggage and a truck load were delivered from Rome .... and promptly nicked while waiting to be placed ... the house and garden were unoccupied and I was still at the airport!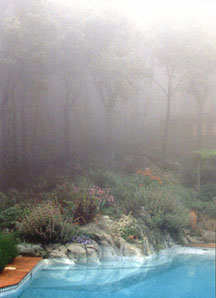 May 1999
Being very near the top of the hill, the clouds sometimes sit with spectacular effect.
The woods are now revived and managed.

May 2002
The Agave flowers
...
with the spike reaching
3 metres
...
I was seriously impressed